Learn to play guitar online with the most detailed tutorials and methods for adults.
Finally find the great feeling of making music on your own!
NEW: Flamenco Guitar Method
Too old to play guitar? Learn how to play the guitar as an adult properly from scratch!

Classical Guitar Basic Techniques
30 Online Guitar Mistakes
Rumba Flamenca Solo Guitar
Learn the guitar online at the same high standard as in a music school
What Students Say About Us
…I was completely surprised, and I would never have thought that it was possible to teach oneself something with an online course. The student videos show 'mistakes' which you can avoid from the very beginning. You are instructed in the fingering step by step and also given encouragement:-)…
Kerstin (36) Vienna, Austria
Norman Gänser is a guitar teacher from Vienna...Unlike other music teachers he has developed a highly professional online guitar course. Today I would like to present to you a guitar course which is worth recommending!
Victor (27), Germany
"I think it's just awesome how you structured this course, so that you really have learning successes. I also took another online course but broke it off after 3 weeks. You had to be able to play eighth notes and pauses right at the beginning my motivation immediately went into the basement. In your course I have now reached lesson 7 and I still have fun with it "
Fred (63), Germany
Many Thanks. When I stopped playing the guitar without success many years ago, I could not imagine that I would start all over again. Thanks to your course, I finally learned the necessary basics and I'm still doing it.
Dragan (48), Serbia
Which guitar is suitable for a beginner?
There are vastly differing opinions on the subject of learning how to play the guitar. But everybody agrees on one point: The easiest way to start for an absolute beginner is with a classical or concert guitar. 
While a western or electric guitar has steel strings, a concert guitar has nylon ones. Nylon strings are much more malleable and thicker and are therefore easier to "pluck" and do not cut into the fingertips so much. This is a great advantage for the sensitive fingertips of a beginner! 
The fretboard of the concert guitar is wider than that of an electric or western guitar. The strings are therefore spaced further apart. This makes for a better grip. The fingers can be positioned more easily without unintentionally touching the other strings. A key benefit when it comes to developing the necessary fine finger motor skills.
The appropriate size of guitar for each age group can be seen in the table below: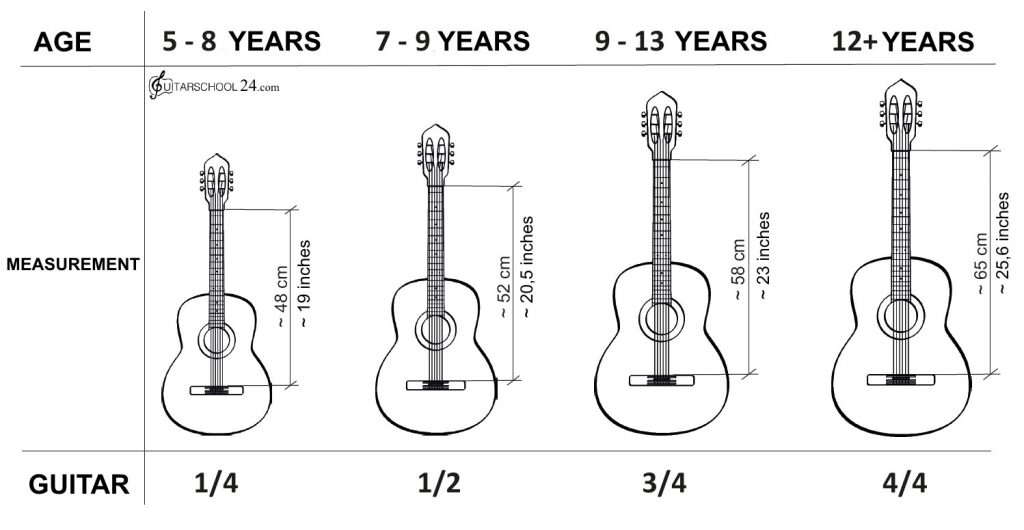 It is of course also possible to start with a western or electric guitar! Musical styles such as Metal, Rock etc. sound very good on an electric guitar! 
If you would like to specialise in folk, blues, or pop as a singer songwriter, you should reach for a western guitar, which is also known as an "acoustic" guitar. 
The best guitar for a beginner is therefore the one that suits you. If you are already the satisfied owner of a guitar, then feel free to play with it! Besides, switching is possible at any time! You can find further useful information on the subject of guitars here.